1 Day WordPress Training Course at $198 
(SkillsFuture Approved)
Hands-on practice on creating a Resources Page.
Hands-on practice on creating a FAQ Page.
Hands-on practice on adding a Privacy Policy Page.
Hands-on practice on some plugins.
Hands-on practice on adding a Hyperlink into a page.
Hands-on practice on advanced topics such as adding, deleting images.
Hands-on practice on advanced topics such as creating and editing menus.
Hands-on practice on advanced topics such as adding, deleting and editing blog posts.
Hands-on practice on advanced topics such as WordPress themes installation and change of themes.
How to register a domain plus an open hosting account for using a specific domain during the training period. [Optional: You do not need to purchase domain or web hosting plans during the course].
Lessons on how to install WordPress and the things to note on setting up WordPress websites.
Hands-on practice on advanced topics such as configuring of WordPress themes.
Hands-on practice on advanced topics such as adding, deleting and editing web pages.
Hands-on practice on advanced topics such as adding and the use of widgets.
Hands-on practice on advanced topics such as adding a video in a page.
Hands-on practice on advanced topics such as deleting and embedding YouTube videos.
Learn how to disable comments for all the selected pages.
Hands-on practice on creating Contact Page.
Hands-on practice on creating a Contact Us Page.
Learn how to effectively manage your website even when you are busy.
Note: Do bring your laptop / notebook / mac-book for this course as you will get to practice step-by-step as the lesson progresses. We will provide wireless connection or bring your own wireless connection.
Some of the topics covered in the training course includes, but are not limited to:
Objective look at WordPress Themes
Using WordPress Themes
Widgets
Plugins (Marketing)
Plugins (Improved Management)
Plugins (Membership Sites)
Plugins (SEO)
Plugins (Analytics)
Plugins (Contact Form)
WordPress Basic Training Course Date:
6th November 2017, Monday, 9.30am - 5.30pm  

[Registration Closed]

28th November 2017, Tuesday, 9.30am - 5.30pm 

[Registration Closed]

19th December 2017, Tuesday, 9.30am - 5.30pm 

[Registration Closed]

21st Febuary 2018, Friday, 9.30am - 5.30pm 

[Registration Closed]

29 March 2018, Thursday, 9.30am - 5.30pm

 [Registration Closed]
WordPress Basic Training Course:
Price: S$198
Duration: 7 Hours
WordPress Advanced Training Course:
Price: S$198
Duration: 7 Hours
WordPress Training Courses Bundle at S$298 only
Oasia Hotel Office Tower (PS100) or International Plaza – Beside Tanjong Pagar MRT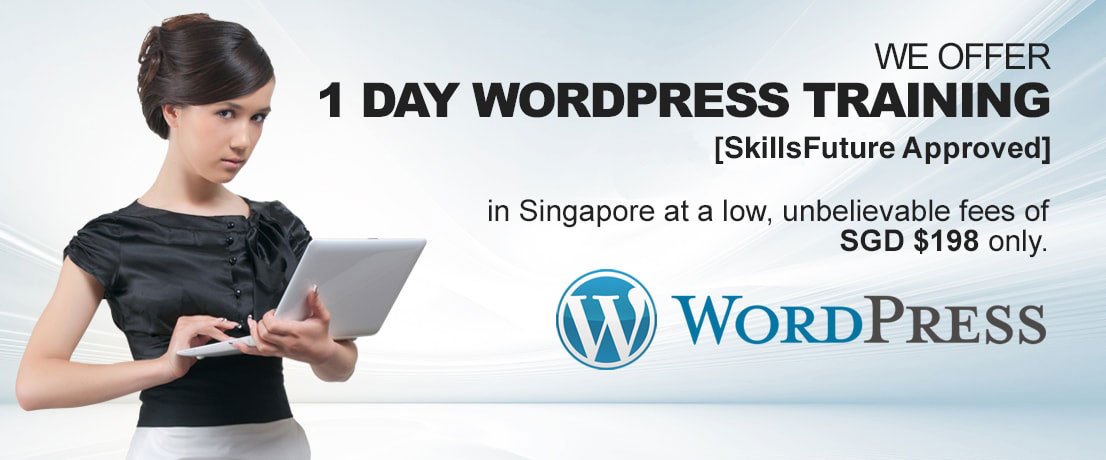 SkillsFuture Covers 100% of Course Fees (Self Sponsored)
In view of Singapore government's push to go global and digital, it is vital to learn how to create a beautiful website in order to reach out to your customers effectively or even globally. We are here to teach you how to make one with minimal effort and maximum quality.
Sign Up for our WordPress Training at Low Price

Learn to create and effectively maintain your very own website using WordPress in our WordPress training course especially designed to assist beginners without programming background or IT knowledge in the mastery of basic WordPress functions and plugins!
Familiarise yourself with the interface of the platform with simple exercises and coaching from our WordPress Specialists and get started with your very own website today!
(SkillsFuture Approved / PIC Claimable)
Sign Up for WordPress Training Courses Bundle at S$298 only
Register Now!
How To Sign Up For Our WordPress Course?
We have provided a 'Sign Up' form at the top, on the right hand side of this page. Please fill in your details and indicate the number/s of people who will be attending the course.  You will receive a confirmation from us via email.  Alternatively,  you can simply click on the 'Sign Up' button below:
We wish to highlight that dates may be subjected to changes without notice.
To start a class, there must be at least 6 participants or else classes will be postponed to a later date. We can make special arrangement for companies who wish for a close class. (Minimum of 6 participants) Only Singapore Dollars are accepted for payment and all payments are non-exchangeable or refundable for other items.
Call us on 62263118 / 62212528 to register for the WordPress Course now!
It's useful for people with no prior technical background, or HTML/CSS knowledge.
The course gives me an overall view of all features of WordPress.
Lina Mercer, Simply Active Pte Ltd
Training is clear and straight forward.
I gain a lot of knowledge on website setting up, Really happy with training.
The course was interesting and easy to understand.
Enjoyed most of the course.
The training gives a good foundation for setting up a website.
The explanation is clear, relevant examples & hands on Thumbs up.
Good general overview intro to creating website.
Amie Chen, Ranger Investigation & Security service Pte Ltd
The course is very informative for newbie who has no prior knowledge of how to use WordPress to set up a website.
Madhoosudhan, Xcellenz Business Consulting
It was a good training. it was nice how the trainer co-operated very well.
Manoj Chandran, Schellden Global Services
A Very well organized course that enables me to get ready hands on in developing the website using WordPress.
Informative reference for website development.