Singapore WSQ WordPress Training Course
WSQ WordPress Training Course (SkillsFuture Approved)
SkillsFuture Covers 100% of Course Fees (Self Sponsored)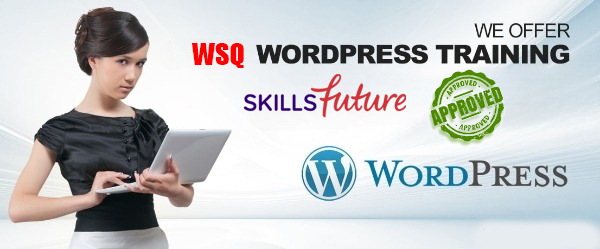 WSQ WordPress Training Course Singapore will teach you everything you need to know to create, manage, and maintain your WordPress website.
Our WSQ WordPress course training is designed for beginners and intermediate WordPress users. No coding experience is required! We provide a step-by-step guide with practical examples, so you can easily follow along and apply what you've learned to your website.
Our course is self-paced, so you can take your time and learn at your own speed. You'll have access to our support team for any questions you may have along the way.
By the end of the course, you'll be able to confidently manage your WordPress website and make it work for you.
Enroll now and take your website to the next level!
LO1. Create a plan for the components of a content management system (CMS) website
A1: Implement content management policies, guidelines and permissions on content management
K1: Content management policies, guidelines and permissions on content management
K4: Creation and curation of web content guidelines
Define the term Content Management System (CMS)
Describe the features and functions of CMS Website software
Explain the advantages and disadvantages of different hosting options
Describe what success could look like when using a CMS website
Identify keywords and/or keyword phrases to be used on each page of a website
Register with a hosting provider with a suitable domain name in relation to keywords and/or keyword phrases identified
Identify the website template to be used for a website
Plan the content and layout needed for each page on a website
LO2. Use CMS software to create a website
A2: Post and update content on content management systems
K2: Web content for deployment
K5: Web content and platform management systems
Customise a website template in relation to a plan
Use planned content to populate a website template
Use programming and development techniques to add features and enhance a website
Include keywords and/or keyword phrases in website meta-tags
Include a blog in a website implementation
Store and retrieve files in line with local guidelines and conventions where available
Include links to Social Networking Sites in relation to a plan
Include buttons to share content on a website
Use testing methods to check that all elements and features of a website are working
Register a website with search engines
Explain how laws, guidelines and constraints affect the content and use of websites
Explain when and why to use different file types for saving content
LO3. Measure and improve the return on investment (ROI) of a website.
A5: Report on metrics to measure performance of content management systems
K6: Types of performance metrics of content management systems
explain the importance of measuring traffic to a website
identify methods of measuring the return on investment (ROI) of a website
use analytic tools to monitor the traffic to a website
define the term 'bounce rate'
explain the impact of bounce rate on a website
identify improvements to a website based on analytical information.
LO4. Create structures and styles and use them to produce websites
A4: Maintain awareness of market offerings on content management systems
K8: Types of market offerings on content management systems
determine what website content and layout will be needed for each page and for the site
plan and create web page templates to layout content
select and use website features and structures to enhance website navigation and functionality
create, select and use styles to enhance website consistency and readability
provide guidance on laws, guidelines and constraints that affect the content and use of websites
explain what access issues may need to be taken into account
explain when and why to use different file types for saving content
store and retrieve files effectively, in line with local guidelines and conventions where available
LO5. Select and use website software tools and features to develop multiple page websites with multimedia and interactive features
A6: Recommend the adoption of appropriate plug-ins to manage and maintain the
organisation's web properties and assets
K3: Organisation's web properties and assets
K9: Types of plug-ins to manage the organisation's web properties and assets
prepare content for web pages so that it is ready for editing and formatting
organise and combine information needed for web pages in line with any copyright constraints, including across different software
select and use appropriate editing and formatting techniques to aid meaning
select and use appropriate programming and development techniques to add features and enhance websites
select and use file formats that make information easier to download
check web pages meet needs, using IT tools and making corrections as necessary
LO6. Publish and test multiple page websites with multimedia and interactive features
A3: Maintain web properties and assets to uphold standards on user experience
A7: Generate ideas to improve customer and visitor experience on web properties and assets
K7: Customer and visitor experience on web properties and assets
select and use appropriate testing methods to check that all elements and features of complex websites are working as planned
identify any quality problems with websites and explain how to respond to them
select and use an appropriate programme to upload and publish the website and make sure that it will download efficiently
respond appropriately to quality problems with websites to ensure outcomes are fit for purpose
Duration: 21 Hours [3 Days]
10 Anson Road, 26-08A International Plaza, Singapore 079903