Search Engine Optimization (SEO) Training Course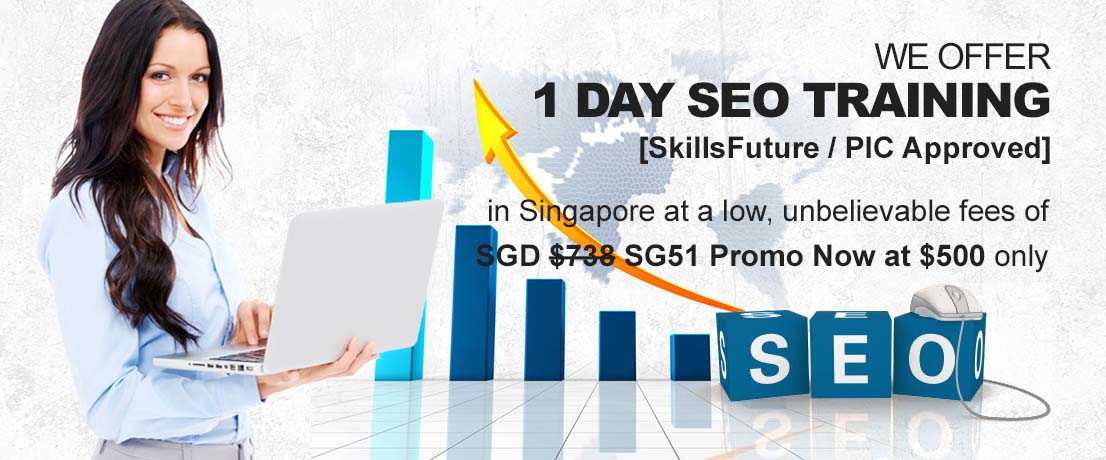 1 Day Search Engine Optimization Training Course (SEO)
(SkillsFuture Approved)
SkillsFuture Covers 100% of Course Fees (Self Sponsored)
Learn about Content Strategy
Brandable vs EMD Domains
Learn on how to build backlinks.
What is a Page Rank and how do they affect SEO?
Ranking on first page of Google with little backlinks
What are Low Hand Fruit Keywords?
Why do you need keywords in your website?
What are the difference between general keywords and specific keywords?
How to avoid Google penalty?
What are some of the things to note as you use SEO?
How can SEO assist in Internet Marketing?
Learn about the Buying Cycle
What are general keywords?
How is keyword research vital to SEO?
Tips on how to go about finding keywords that consumers demands
Secrets of Exact Match Domain?
On-page Optimization & its uses
Why are the backlinks important & what are some of their uses?
What is the difference between Page Authority (PA) and Domain Authority (DA)?
How to research on your competitors and learn more about them?
Learn about ON/OFF Page SEO
You will also get BONUS tips on the SEO training guide on how to advertise your services and products in the market that will help you empowered your internet presence, and, at the same time, helping you utilize the power of SEO knowledge after the training.
Note: Do bring your laptop / notebook / macbook for this course as you will get to practice step-by-step as the lesson progresses. We will provide wireless connection or bring your own wireless connection.
International Plaza – Beside Tanjong Pagar MRT
Join our SEO training to learn how to rank your website on Google's 1st Page

In the past, the most effective way of reaching out to the public is by implementing traditional advertising such as printed and banner advertisements. However due to the technological advances in the recent years, a much more cost effective and audience targeting alternative has been introduced. This alternative is called internet marketing.
In the vast world of internet marketing, Search Engine Optimization (SEO) is one of the most popular methods to get a great ranking in the most preferred search engine, Google. However, even though this advertising method has been introduced, there are still many companies that continued on implementing traditional advertising which resulted in huge expenditure for their business.
By attending our workshop, you will be taught on how to overcome some of the tricky situations many have faced on the internet advertising, through the mastery of SEO skills. With these knowledge, you will be able to boost your business website's ranking on the Google Search, which ultimately leads to the attraction of many customers who are looking for your products and your business.
There must be at least 6 participants or else classes will be postponed to a later date.
We can make special arrangement for companies who wish for a close class. (Minimum of 6 participants)
Only Singapore Dollars are accepted for payment and all payments are non-exchangeable or refundable for other items.
Why Choose us?
This SEO workshop is situated at the International Plaza, Tanjong Pagar, the heart of CBD area. We provide a top-class training in a good learning environment.
This course is suitable for Companies and Businesses in Singapore who wants to learn about Internet Marketing and ways to boost their sales. It is also suitable for the property agent who wants to learn about Internet Marketing with an aim of boosting rental or property sales.
The class size is small to enhance learning experience. The SEO course that costs less than $800, a price that can't be found anywhere else in Singapore.