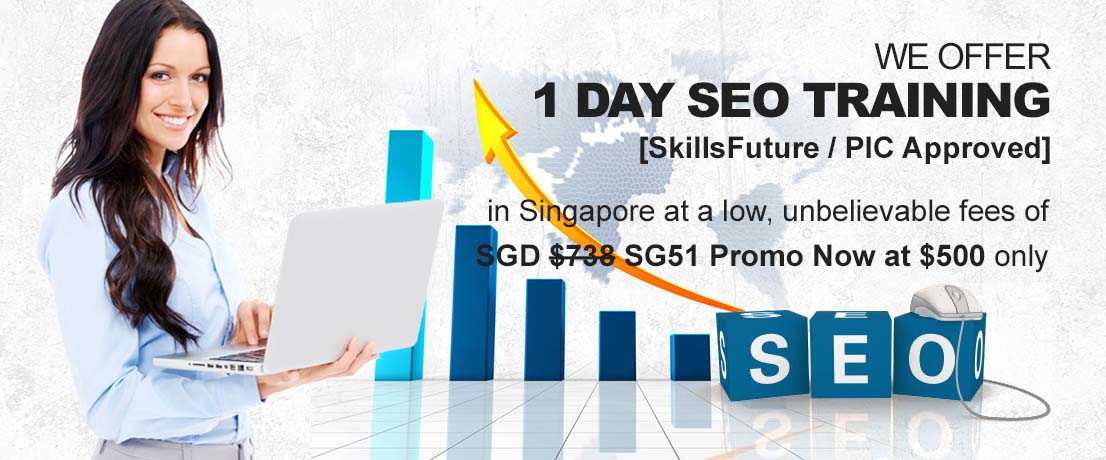 1 Day Search Engine Optimization Training Course (SEO)
(SkillsFuture Approved)
SkillsFuture Covers 100% of Course Fees (Self Sponsored)
Learn about Content Strategy
Brandable vs EMD Domains
Learn on how to build backlinks.
What is a Page Rank and how do they affect SEO?
Ranking on first page of Google with little backlinks
What are Low Hand Fruit Keywords?
Why do you need keywords in your website?
What are the difference between general keywords and specific keywords?
How to avoid Google penalty?
What are some of the things to note as you use SEO?
How can SEO assist in Internet Marketing?
Learn about the Buying Cycle
What are general keywords?
How is keyword research vital to SEO?
Tips on how to go about finding keywords that consumers demands
Secrets of Exact Match Domain?
On-page Optimization & its uses
Why are the backlinks important & what are some of their uses?
What is the difference between Page Authority (PA) and Domain Authority (DA)?
How to research on your competitors and learn more about them?
Learn about ON/OFF Page SEO
You will also get BONUS tips on the SEO training guide on how to advertise your services and products in the market that will help you empowered your internet presence, and, at the same time, helping you utilize the power of SEO knowledge after the training.
Note: Do bring your laptop / notebook / macbook for this course as you will get to practice step-by-step as the lesson progresses. We will provide wireless connection or bring your own wireless connection.
International Plaza – Beside Tanjong Pagar MRT
Join our SEO training to learn how to rank your website on Google's 1st Page

In the past, the most effective way of reaching out to the public is by implementing traditional advertising such as printed and banner advertisements. However due to the technological advances in the recent years, a much more cost effective and audience targeting alternative has been introduced. This alternative is called internet marketing.
In the vast world of internet marketing, Search Engine Optimization (SEO) is one of the most popular methods to get a great ranking in the most preferred search engine, Google. However, even though this advertising method has been introduced, there are still many companies that continued on implementing traditional advertising which resulted in huge expenditure for their business.
By attending our workshop, you will be taught on how to overcome some of the tricky situations many have faced on the internet advertising, through the mastery of SEO skills. With these knowledge, you will be able to boost your business website's ranking on the Google Search, which ultimately leads to the attraction of many customers who are looking for your products and your business.
(SkillsFuture Approved / PIC Claimable)
Sign Up for SEO Training Course at S$500 only
Register Now!
There must be at least 6 participants or else classes will be postponed to a later date.
We can make special arrangement for companies who wish for a close class. (Minimum of 6 participants)
Only Singapore Dollars are accepted for payment and all payments are non-exchangeable or refundable for other items.
Why Choose us?
This SEO workshop is situated at the International Plaza, Tanjong Pagar, the heart of CBD area. We provide a top-class training in a good learning environment.
This course is suitable for Companies and Businesses in Singapore who wants to learn about Internet Marketing and ways to boost their sales. It is also suitable for the property agent who wants to learn about Internet Marketing with an aim of boosting rental or property sales.
The class size is small to enhance learning experience. The SEO course that costs less than $800, a price that can't be found anywhere else in Singapore.
The trainer knows his stuff and I have gained a lot from this Search Engine Optimization workshop
Nur Khaliesah Bte Shawalri
This workshop benefits me as I am able to learn the steps on how to rank my website on the first page of the search engine (Google).
Through this workshop, I learned how to implement SEO on the website I own so that I can rank myself in the Google search engine.
Jean Hoh, GPS Alliance P/C
This SEO workshop provided useful links to help me improve my website ranking.
Pang Su An, CBRE Realty Associate
Very informative and useful workshop to gain insight into the complicated SEO network.
Wong LinYing, The Oceanic Group
The trainer is very knowledgeable about SEO and he shared his extensive knowledge with us in an engaging session. I learned a lot about SEO today!
I have picked up great tips through the course for building up backlinks to improve websites ranking! Thank you!
Ryan Yu, National University Of Singapore
Sharing of personal experience by the trainer was insightful but slightly excessive. It shows that he is experienced in SEO.
This SEO has made me understand how my website is being ranked. Choosing the right keyword(s) is very crucial to the success of your page ranking.
Edwin Li, PurelyFresh Pte Ltd
Valuable knowledge on SEO obtained in just one day. The trainer is very skillful in internet marketing.
Lai Yuet Moy, Craftech Printing Services
Additional knowledge for SEO
Marvin Ng, AsiaPac Bio LLP
Very practical tips. Thomas is a friendly, straight talking trainer. Excellent at showing his knowledge.
Endy Susanto, The Moving Images
Clear and well constructed presentation which allows easy understanding.
Lim Shih Yang, ResidentAgent.sg
It was very good and useful.
I learn new and practical ways to rank my websites. It has increased my aware in improving my ranking.
Good lesson. Very useful.
Koh Yang Uei, Synergix Technologies
Good pace. Good Examples and Demo of real active case.
Li Qi, Leto Baloons Pte Ltd
It is very useful.
Katsuko Ozaki, YAWARAGI PTE.LTD.
Now I can start to develop SEO plan for my website!
Thomas uses basic theory and practical way to teach complex subject.
I was able to know the tool and techniques in monitoring our SEO for our company websites to boost traffic.
Kayvern Koh , Institute of Technical Education (AMK Central)
I have a better understand how SEO works with reference on the PA and DA. This is a very useful knowledge.
Ho Mei Chun, Institute of Technical Education (AMK Central)
Although I am not at the beginning of optimizing websites, it is also for me in learning hoe to check for page rank, Backlinks & EMD
A great introduction to SEO for me, Thanks
Josephine Ang, Institute of Technical Education (AMK Central)
This training is very useful. SEO is not just understanding the technical knowledge but also through experience & understanding audience.
The trainer gave many concrete and relatable examples that the class benefited a lot from. His explanation was clear and precise, everything you need to know about SEO in 1 day.
This workshop tells me the importance of SEO for business.
Maysarah, A-Bide Safety Solutions Pte Ltd
I have learned new things in SEO which I have never learned before. Definitely recommended.
Desmond Lee, GGA Technologies Pte Ltd
Simple and easy understanding process teaching.
The workshop is informative & I learn more about what SEO is about.
Pankhil Desai, Big Red Pte Ltd.
The trainer is very knowledgeable in SEO and his enthusiasm is infectious. I hope to practice the skill I learned today for my company.
Maya A Razeed, CAVI-JET PTE LTD
Very informative and trainer answer all queries with ease. Very helpful.
Anthony Lim, Denovo Design
Very comprehensive and clear.
Truly a basic SEO course for newbie.